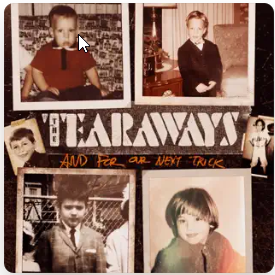 The Tearaways release "And For Our Next Trick" on Dirty Water Records
Press Release:
Dirty Water Records is pleased and proud to announce the digital release of "And For Our Next Trick," the latest album from California garage-rock supergroup, The Tearaways. Recorded at the legendary Village Recorders in Los Angeles and mastered at Sterling Sound by Greg Calbi, this 12-track record showcases The Tearaways' signature sound and features some notable collaborations.
Today sees the release of the Ed Stasium-produced (Ramones, Talking Heads, Smithereens) digital version of their new record called "And For Our Next Trick." The band features the dual lead singers of bassist John "Fin" Finseth and rhythm guitarist Greg Brallier, lead guitar David Hekhouse and Rock & Roll Hall of Fame drummer Clem Burke (Blondie). Also, from Tom Petty & The Heartbreakers, Benmont Tench played keyboards and Steven McCarthy (Jayhawks, The Long Ryders) added pedal steel guitar.
The first single off the album, "Charlie, Keith and Ringo," has already been released to radio along with its award-winning video directed by Stephen David Brooks ("Flytrap"). The spring single, "Saturday Everyday," is being serviced to radio stations and other outlets as we speak.
"We're thrilled to have assembled an all-star team of distributor Cargo Records UK, Wipe Out Music Publishing, Seán Crossey from the UK promotion firm High Violet PR & Plugging, and US publicity specialist Lou Mansdorf to help launch this project," says label chief Paul Manchester.
"And For Our Next Trick" will be available digitally on Friday 24/3/23. LP and CD versions this summer.
Available on Apple Music, Amazon Music, Spotify and Bandcamp.
New Videos From the new record: Charie Keith and Ringo, Saturday Everyday